Industrial roller ironers: wall-mounted or high-production ironers?
What is an industrial roller ironer?
Industrial roller ironers are machines used to dry and iron large pieces of flat linen; They are very common in hotels and hospitals, as this is the type of place where fairly large volumes of flat linen are usually processed on a daily basis. In the world of flatwork ironers, there are two types, wall-mounted ironers and high-output ironers.
Although technically they may be very similar, the reality is that there are some differential characteristics that may be more suitable for the use you plan to make. Here we will show you some of these differences, which can help you a lot when choosing your machine.
New wall flatwork ironers
Our range of wall-mounted dryer ironers is designed to meet the needs of hotels, health centers, retirement homes…
They have been designed to improve the energy efficiency or production capacity of our customers and to reduce operating costs. These are industrial roller ironers that are characterized by their sturdiness, ironing quality, easy use and the safety they provide to laundry operators.  Innovative and compact, they save space and offer several options that make them extremely versatile machines.
By reviewing all the options we offer in our catalog, you will find that 4 ranges are available: the smallest ones with a roller of ø 200 and 325 mm and a working width of 1,40 m to 2 m. They are controlled by an electronic programmer, simple and easy to use, which allows them to cover the needs of small structures without any problem.  They essentially combine ironing speed and quality at the best price.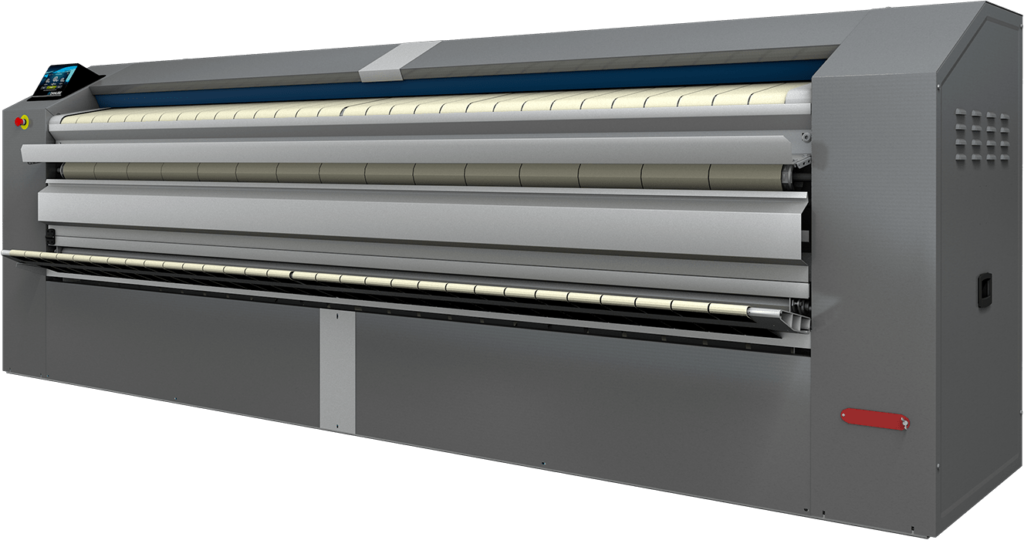 To talk about our widest range, this is available with a 500 or 650 mm roll, depending on the model, and is specially designed to meet the needs of hotels, healthcare facilities or retirement homes where productivity and quality are inseparable.
In this case, they incorporate the ET2 microprocessor with a 7-inch touch screen, as well as different options to save time and energy during cycles, such as, for example, the automatic speed regulation system or the lengthwise folder, among other advanced features.
They can also be completed with the high production HPS system, with which it is possible to iron up to 15 meters of laundry per minute.
High-production flatwork ironers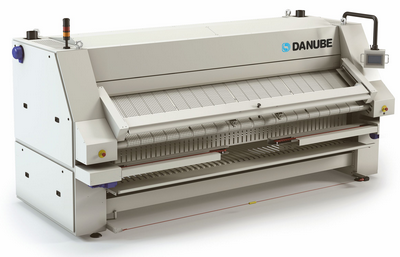 The range of compact 600, 800 and 1000 mm roller ironers has been designed with adjusted dimensions, while still offering a very high production rate. More precisely, they are able to dry and iron up to 290 kg/hour on less than 27 square meters.
In this case, let's take as an example the SPE model to show the main characteristics of this type of industrial ironers. 
These models incorporate a new control that allows easy use of the machine, very intuitive and very flexible to be able to adjust any of the ironing or folding parameters. The laundry is fed and collected from the front, rear or side if the machine is completed with a side stacker, which is one of its main advantages.
On our website you will find three models with different diameters, to choose from depending on the volume of laundry to be processed. In addition, these models are available with three different heating systems: electric, gas or steam.
They have two working lanes, one for bedsheets or two for table linen and small parts. They have two types of folding, longitudinal and transverse, in addition to also having Nomex feeding and ironing bands. 
They are built with white lacquered steel panels, do not require major maintenance work and offer a very large production capacity. To find out more, to request a detailed quote or to answer all your questions, simply contact our sales department.