D-14-16-20 BM flatwork ironers
A recognized ironing quality with ø 325 mm flatwork ironers
The speed and excellence of the final result after the washing process are very important points for companies in the hotel, catering and leisure sector. Therefore, DANUBE has designed a range of ø 325 mm dryer-ironers, available in several working widths and 2 types of heating, which allow it to be flexible and adapt to all types of structures, while meeting the requirements of each sector.
These new models of ø 325 mm flatwork ironers are equipped with a new BM electronic control which allows them to be more efficient and more flexible thanks to its three operating modes, including AUTO mode, which automatically manages the ironing speed.
What's new in our wall flatwork ironers for 2021? | www.danubeinternational.com
What's new in our wall flatwork ironers for 2021? | www.danubeinternational.com
Dry and iron directly from a high speed washer extractor in a single operation: time saving
Compact dimensions: space saving
Skinplate and stainless steel panels: easy to clean (RABC standard) and corrosion resistant.
Designed to improve efficiency and reduce operating costs thanks to the new BM control, more efficient.
Recognized as functional and economical models, easy to use and safe.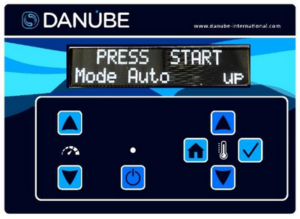 D-14-16-20 BM main features
Productivity between 15 and 40 kg/h
Front feeding and return.
Electric or gas heating (atmospheric burners).

New BM electronic control: adjustable speed and temperature. Automatic management of the ironing speed according to the temperature selected thanks to the AUTO mode.

Roll Ø 325 mm in polished steel.
Working width 1m40, 1m60 and 2m.
Motor with speed inverter.
Built-in cool down system.
Ironing by Nomex belts for a better quality of ironing and durability.
CARE IRON: automatic regulation of the ironing speed based on the detected humidity
Nickel plate roll.
Special voltages
WOULD YOU LIKE MORE INFORMATION ABOUT THIS PRODUCT?