What novelties does our catalogue for industrial laundry present in 2022?
Why bet on Danube to buy a washing machine for your industrial laundry?
Danube has been manufacturing industrial and sanitary laundry equipment since 1947. We market and export our equipment all over the world, creating solutions to improve all the processes that take place in a contemporary laundry.
With 75 years of experience in the sector, we are currently a reference and offer a wide catalogue of equipment for all types of laundry.
All our washing machines have the most advanced technology, as well as numerous customization options, factors that allow us to adapt perfectly to the specific needs of each of our customers.
Washing machine for industrial laundry: ET2 microprocessor
The ET2 microprocessor has marked a turning point in our equipment since we launched it on the market. It is essentially designed so that our equipment offers an unprecedented level of energy efficiency. In the case of washing machines, this state-of-the-art microprocessor offers a large 7-inch touch screen, configurable in 37 different languages; This greatly facilitates its use for users all over the planet.
It also has pre-set ecological programs and allows the loading of personalized programs via an USB connection. On the other hand, in addition to having 8 standard dosing signals, it allows an exhaustive control of the traceability of each washing cycle for a complete analysis of the data, which is extremely important to optimize and improve decision-making.
The three ranges of washers for industrial laundry in our catalogue
In our catalogue you will find three ranges of industrial washing machines to choose from depending on the needs of your laundry:
WED ET2 high speed washer
This is a free standing high spin speed washer, designed to meet the needs of all types of laundry, whether industrial or coin-operated.
It is equipped with the ET2 microprocessor and can operate Wet Cleaning programs, as well as the possibility of being connected to the Aquabac water recovery tanks.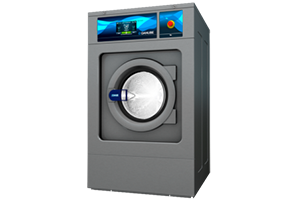 Vat and drum are made of AISI 304 stainless steel, making it a versatile and ergonomic machine with easy access to all components and no major maintenance tasks. 
It allows exhaustive control of each washing cycle and has one of the highest G-factors on the market, at 450.
WEM ET2 medium speed washer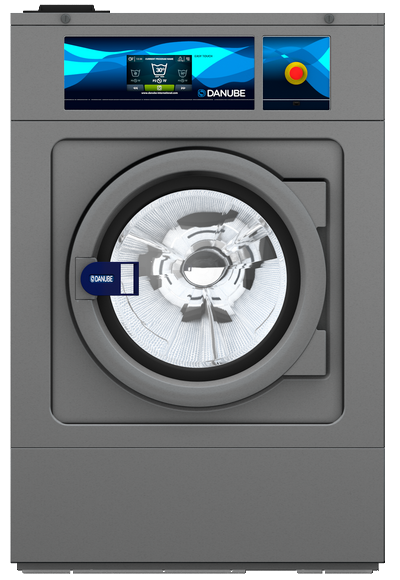 We are in front of one of our most common models in hotel laundries. It is a model with load capacities from 11 to 27 kg, depending on the daily workload of your laundry, with state-of-the-art components and technology,  with standard ET2 microprocessor and a G-factor of 300.
Thanks to the optimal loading system, this washing machine offers the possibility of adjusting the consumption of water and detergent to the weight of the load.
 It can also be connected to Aquabac water recovery tanks and, as in the previous case, it is also made of AISI 304 stainless steel.
WEN ET2 normal speed washer
It is another of the models that we install the most in hotel laundries for various reasons, such as washing quality, energy efficiency or robustness.
With a G factor of 200, this machine is also equipped with the ET2 microprocessor, is ready to operate with Wet Cleaning programs and also offers the optimal loading system, to adjust the consumption of water and detergent to the exact weight of the load.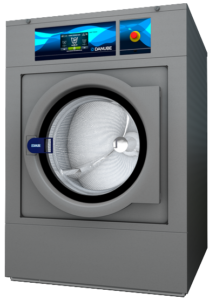 The three models offer many customization possibilities and can be improved or completed with a long list of options that you will find in each of the product datasheets.
To receive detailed information, simply fill out the following form and one of our sales representatives will call you immediately. We'll support you through the purchase and installation process, so you don't have to make any mistakes!