Industrial mop cleaning for service companies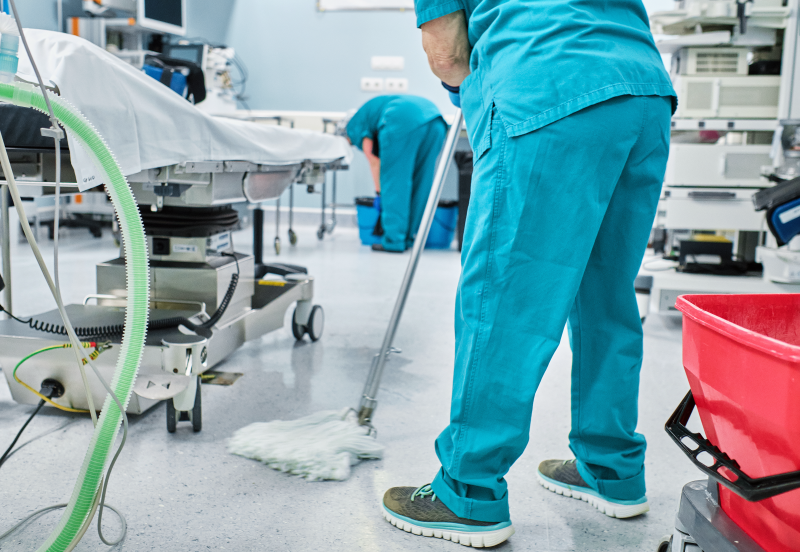 At Danube, with the design of our equipment and machinery, we always seek to guarantee the maximum conditions of cleaning and disinfection in professional environments, to ensure, to all the companies that require it, the highest possible level of hygiene, such as service companies. 
DANUBE technology offers a simple and effective solution for industrial mops cleaning called "Ready for Mops".
Cleaning mops and extending their life in the best possible condition is not always easy. For this reason we have designed the most suitable and flexible machine to carry out this preparation work in optimal conditions. The design of the washer drum and the suspended structure optimize the washing work of the mops and greatly extend their service life.
Highlights of our washers designed to optimize the washing of mops
The washer allows full control of the mechanical action of the drum thanks to the ET2 microprocessor.

The spin speed can be adapted to obtain the desired percentage of residual humidity, obtaining the best performance for each type of mops.

The large format door has been designed to facilitate the loading and unloading of mops.

Short duration programs to streamline processes with maximum efficiency and electronic control of program phases for safe disinfection of mops and cloths.
The design of the drum perforations allows the washer to remove dust and dirt from the mops, without damaging their material, thus greatly extending their service life.

The spin speed allows to obtain a minimum percentage of residual humidity for the best performance of each type of mop. This variation in the spin speed is adapted to the degree of residual humidity.

The professional range and industrial one up to 18 kg offers the possibility of incorporating a base, under the drum, for mops, with which a great saving of water and energy is achieved.
What are industrial mops used for in cleaning service companies? 
Among cleaning products and supplies, mops are an essential tool. There are many sizes and materials depending on the type of cleaning required. They can be made in microfiber or cotton. Mops, as a rule, are usually made of cotton or polyester and measure between 45, 75 and 100 centimeters, the standard width being 15 cm.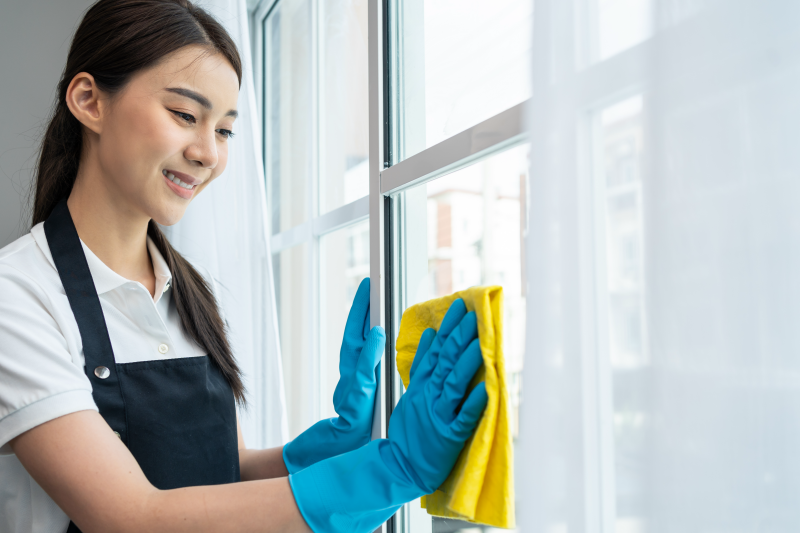 Each mop performs a different function depending on the surface to be cleaned:
Mops are designed to remove dust from any surface comfortably and quickly. To achieve this goal, the mop must be passed once the surface has been swept.
Its function is to collect dust, gravel and small particles of dirt that the broom could not remove, preventing it from spreading through the air and making it easier to maintain impeccable cleanliness.
Differences between cotton and microfiber mops for industrial washing
Many external agents can deteriorate mops, other than dust and dirt. When using an industrial washing machine, mops should be washed before each use and before dirt dries and becomes more difficult to remove. After cleaning it, make sure to dry them well.
Mops differ in their material when it comes to adapting industrial washing:
Cotton mops: This is the most common for industrial use. The material is soft and is suitable for all types of floors. The mops should be precisely dampened with the right cleaning product, for a professional and long-lasting finish. Cotton is washable and very durable and can be cleaned several times in a washing machine. The absorption capacity allows it to be impregnated with an anti-dust cleaner.

Microfiber mops: They absorb dust from any type of floor or surface in a single pass, depending on whether they are moistened or not. Microfibers are polyester filaments at least 10 times finer than a human hair. Their resistance makes them ideal for industrial washing, with longer lasting friction and wear than other materials. They withstand many washes in the washing machine, their greatest advantage being their lifespan and, therefore, their performance. They reduce effort and working time, which directly leads to better performance and lower costs.
If you own a cleaning service business and are interested in our range of industrial washing machines, please do not hesitate to contact us. 
We have extensive experience in the industrial laundry sector. We always offer professional advice, putting all our knowledge at your disposal and guiding you through the process so that you make the best decision. 
You can ask for a detailed quote or send us any request by taking a few seconds to fill out our contact form.