Sale of industrial dryers: efficiency, connectivity and the highest drying quality
What is an industrial dryer?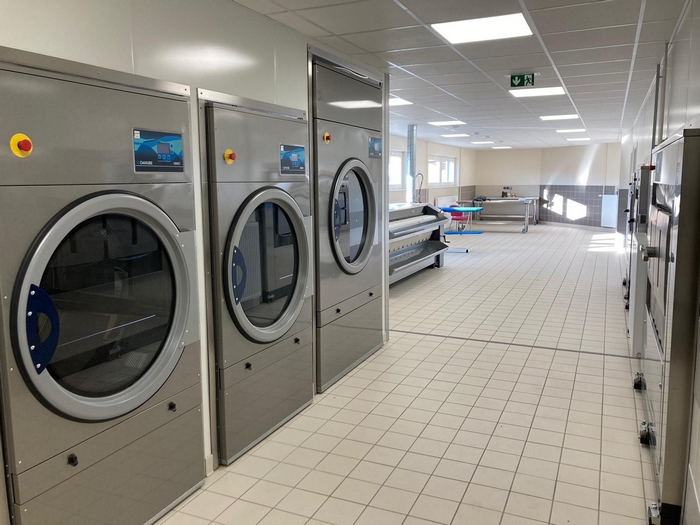 The industrial dryer is a fundamental element for an efficient and quality service in a contemporary industrial laundry. It is one of the three parts that must make up the entire spectrum of machines, along with washers and flatwork ironers. 
In our catalog you will find state-of-the-art industrial dryers with advanced features, in terms of drying quality, energy efficiency, robustness or connectivity.
Industrial dryers have been designed for intensive and daily use, being able to operate practically every day of the year throughout the day. 
These characteristics allow it to absorb the volume of work required by modern industrial laundries. In addition, the machines are designed to have a long life and require as little maintenance as possible.
On the other hand, our dryers are fully ready for the loT, the internet of things, integrating the ET2 microprocessor, which makes it one of the most efficient ranges of dryers on the market today.
What types of industrial dryers can you buy?
We offer three types of industrial dryers that differ in design and components:
Industrial dryers with single drum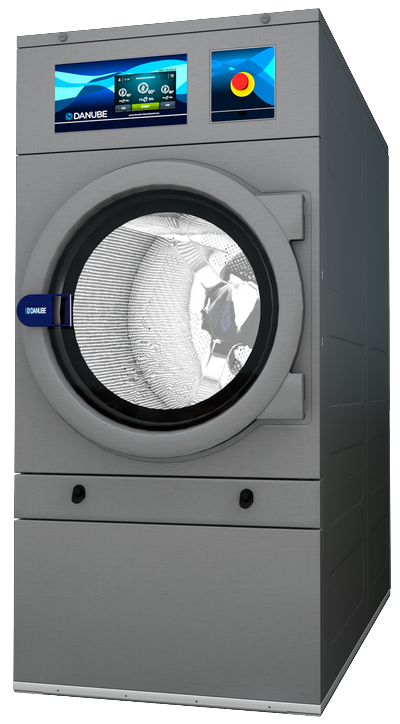 The DD-GOLD range of industrial dryers simplifies the work of an industrial laundry, reducing cycle times and maintaining high drying efficiency, without altering or damaging clothes.
These dryers also feature the CARE DRY system for intelligent and optimized humidity control. At the same time, the SOFT DRY system is based on new drum perforations, designed to extend the life of the clothes, in addition to an air recycling system, a double glass door and insulating panels. 
As mentioned, they are equipped with the ET2 microprocessor, with a large touch screen that offers the possibility of showing illustrative videos, controlling traceability and loading tailor-made drying programs for each textile. 
The models in the DD-SILVER and DD-BRONZE range are intended for small hotels, student residences, restaurants with large daily work volumes, campsites, etc.
Finally, we have the DD-BASIC range, which works exclusively for companies that need a small laundry to process and dry the clothes of staff and customers, but do not have huge volumes of daily work and a large budget to invest.
Industrial dryers with double drum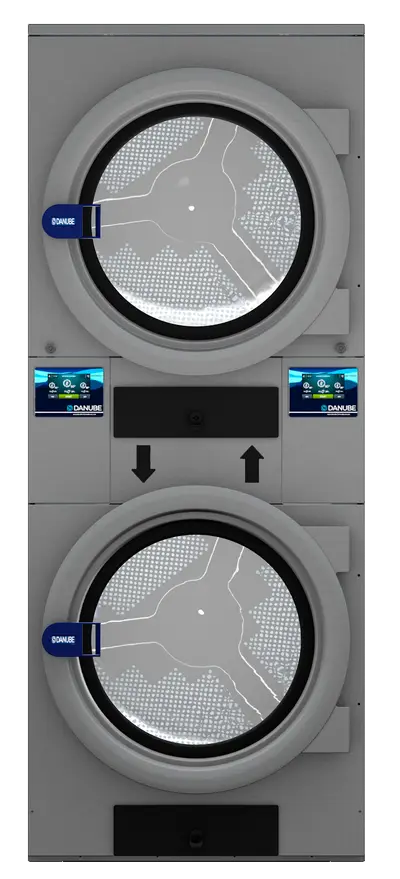 STD SILVER double drum dryers have been designed to save space in an industrial or self-service laundromat. About their energy efficiency, they have a gas heating system with which they can double production. We have two different capacities, 11 and 16 kg. In both cases we have incorporated the ET2 microprocessor with touch screen, in addition to having standard frequency drives and an axial-radial airflow system – this allows to optimize and maximize the airflow in the drum –.
STD-BRONZE dryers are ideal for small spaces and are equipped with the new EM electronic programmer, to select time and temperature.
The STD-BASIC EM range is designed for companies on a tight budget or who do not need the many drying features and state-of-the-art equipment of the premium ranges.
Heat pump tumble dryer
DANUBE heat pump dryers are ideal to be installed in places without external access or with difficulties thanks to their technology and adaptability. There is no need for evacuation to the outside, which offers a real technological solution to all those laundries that find themselves in this situation, in a market segment lacking services and customizable machines.
In addition, they are ergonomic, robust and very versatile machines, characterized by their simple maintenance and easy access to all components from the rear panel. It is a range of high efficiency dryers with high levels of connectivity thanks, again, to the ET2 microprocessor.
It is important to end by highlighting that the models of dryers in our catalog have a high degree of customization, being able to adapt to the specific needs of each client. You can ask all your questions about our industrial dryers by filling out the following form with your details and one of our sales representatives will call you very quickly. As simple as that!