Self-service laundry modules for campsites: offer your customers the best possible service with DANUBE equipment.
If you are looking for a self-service laundry module, you have come to the right place: DANUBE can offer you high quality equipment that will meet your expectations and needs. 
At DANUBE, we have a wide range of self-service laundry solutions and modules that allow us to easily adapt to the needs, demands and budget of our customers. Our washing machines and dryers are equipped with the most advanced technology and are made of very robust materials, a factor that enables them to withstand intense and constant workloads.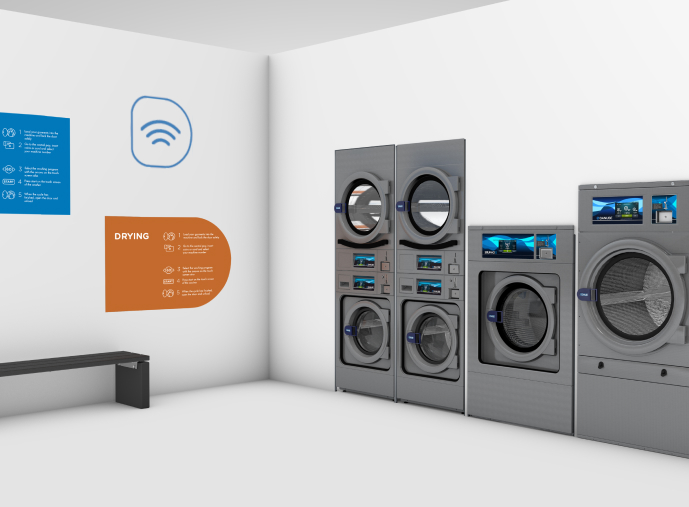 We stock different sizes and capacities of both washing machines and dryers, so you can build your ideal space. But if you're looking for a complete set, we have different module models, from the most complete to the most compact.  
What do the DANUBE self-service laundry modules look like?
With small and medium-sized businesses in mind, which have the same requirements as industrial laundries, DANUBE offers a line dedicated to the self-service laundry sector, designed with specific machines that incorporate all the elements necessary to create a characterized space. Our Blue Wash Box and Blue Corner lines are proof of this.
With our self-service modules, you can not only set up your laundry business at your campsite in the quickest and easiest way possible, but you can also do it within your budget.
What are our self-service washing modules?
Blue Corner module
With this solution, we present you with perfect modules for all companies and businesses that want to have a small laundry room and do not have a lot of space: gyms, inns, hairdressers, spas, small hotels or campsites like yours, among others.
We offer three different proposals and configurations to choose from depending on the volume of work and the physical characteristics of the space where the module will be installed.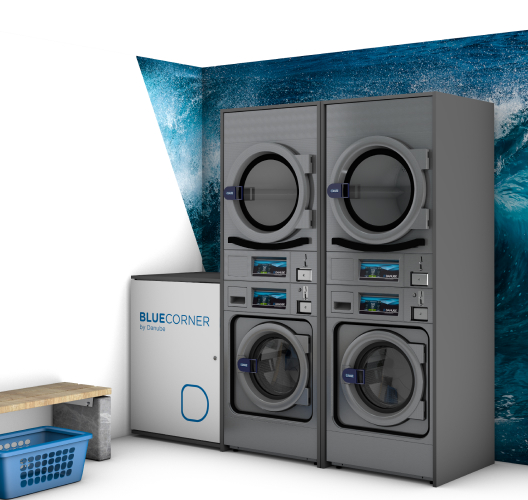 1+1 PRO PACK: horizontal line with a washing machine and a dryer.

PRO STACK PACK: vertical line with a washing machine and a dryer.

DOUBLE PACK: 2 vertical lines with one washing machine and one dryer each.
Blue Wash Box module
If you are planning to set up a self-service launderette on your campsite and you don't have any premises, or if you organize events and need a mobile launderette to move from one place to another, this proposal from DANUBE is what you need.
Now, with the BLUEWASHBOX modules, you will have a transportable self-service laundry with state-of-the-art machines at your fingertips.
These are customized modules, so that you can adapt them to the real needs of your campsite. Depending on your requirements, needs and requests, we will offer you modules of varying sizes, with or without accessories, as you wish.  
The advantages of DANUBE self-service laundry modules
Setting up a self-service laundry has never been easier. Our modules offer you all the advantages of portability. What's more, the modules come with the DANUBE guarantee and what that means. They are high quality, robust, efficient and effective.
The machines are easy to use, versatile, efficient and maintenance-free. A safe investment for any company that pays for itself in a very short time.
Design the interior of your module according to your needs
The standard module is prepared to accommodate all types of laundry equipment. Its design is very bright and its structure is transparent, so you can see what is going on inside at all times.. 
You can choose which washing machines or dryers to include, the capacity and size, and whether you want a closed, open or double module. You choose what you want, we take care of the rest!
In short, if you have a small business that needs laundry services, but you don't have enough space, or you don't see the need to make such a large investment as the other proposals require, with our BLUEWASHBOX and BLUE CORNER modules, we present you with the optimal solution, without any doubt!
You can contact us without obligation by calling +33 (0)2 54 88 05 76 or by emailing us at info@danube-international.com. We will be happy to help you!