Legislation and requirements for washing machines in hospitals, nursing homes and health care facilities
All you need to know about industrial laundry in hospitals: requirements
The work carried out in industrial hospital laundries has a direct impact on the sensations that the client or user derives from his or her stay in the facilities, which is why many companies prefer to have their own laundries in order to control and guarantee the quality of the cleaning and disinfection of the linen.
They are therefore looking for versatile equipment that lasts and, of course, offers the best possible wash quality, while taking care of the different types of fabric throughout the washing process and preserving their texture, colour and smell. And all this while taking into account, at the same time, efficiency and sustainability, concepts that are closely related and very important. The equipment we manufacture at DANUBE has all these characteristics and requirements.
Another aspect that customers place great importance on when choosing machines is connectivity, with solutions that allow the laundry to be controlled remotely, speeding up the work and protecting both the engineers and the laundry teams.
Finally, due to the COVID-19 pandemic, disinfection has become particularly important to ensure the safety and health of people, especially in hospitals and nursing homes. Therefore, it should also be taken into account that industrial washing machines for these sectors can be equipped with tools that guarantee the hygiene and disinfection of standard industrial washing machines. Washing machines with a sanitary barrier are an important ally in ensuring exemplary cleanliness.
Hospital laundry: general requirements for hospitals and nursing homes
It is desirable to have at least two machines, one for pre-washing and one for washing. Ideally, hospital industrial laundries should be equipped with a sanitary barrier, but given the costs and quantity of laundry processed in hospital laundries, single-entry, front- or side-loading industrial laundries can be used.
The measurements should correspond to the space they will occupy. The capacity will depend on the number of kilos of laundry washed per day and the time needed for a washing programme.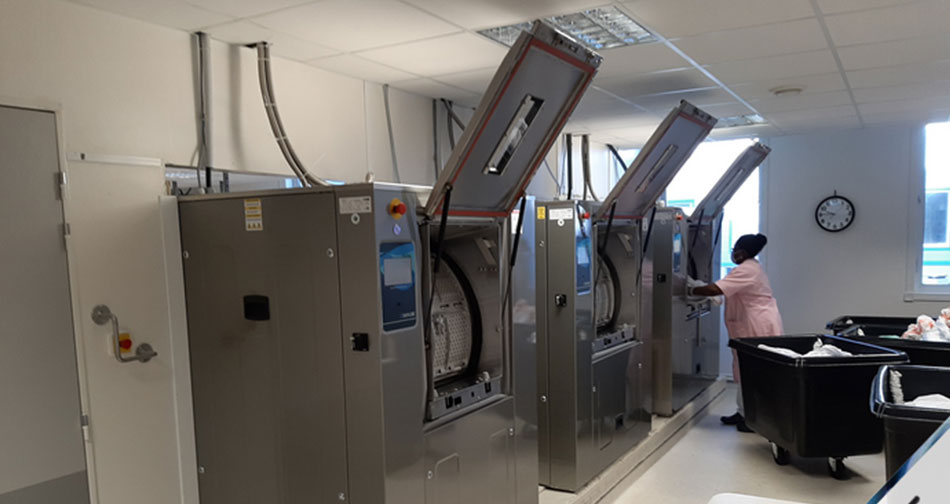 It is therefore recommended:
For industrial hospital laundries processing less than 80 kg of linen per day, load capacity between 8 and 12 kg.

For industrial hospital laundries processing more than 80 and less than 200 kg of linen per day, load capacity between 12 and 20 kg.

For industrial hospital laundries processing more than 200 and less than 500 kg of linen per day, load capacity between 20 and 40 kg.

be industrial (no domestic washing machines).

Spin function if possible above 700 RPM.

Have programs that can be modified by the operator.

Provide three levels of water during washing.

Maintain washes at temperatures above 70°C for at least 20 minutes.
What does it mean for a hospital's industrial laundry to have a sanitary barrier?
A poor washing process can lead to many points of infection, as they are in contact with the patient or resident at all times.
Total disinfection begins with special treatment of the linen arriving at the hospital's industrial laundry and the total separation of dirty and clean linen. Cross-infection must be avoided at all times, so it must be installed between two separate areas to prevent contact between dirty and clean linen.
DANUBE's sanitary barrier washers have been designed within strict hygiene and safety parameters, as infectious diseases are quite common and hygiene must be ensured.
The fight against the spread of bacteria is a constant and daily health issue in hospitals and nursing homes. To avoid contagion, the machines used for washing must comply with RABC standards to ensure the highest level of hygiene.
Features of the DANUBE DBW barrier washers
As specialists in the design and manufacture of hospital laundry equipment, we would like to introduce you to our range of barrier washers. We have models with different load capacities ranging from 27 to 70 kilos to meet different needs. In addition, they are equipped with the ET2 microprocessor, with a 7″ screen that allows efficient control of each wash and can be configured in 37 languages.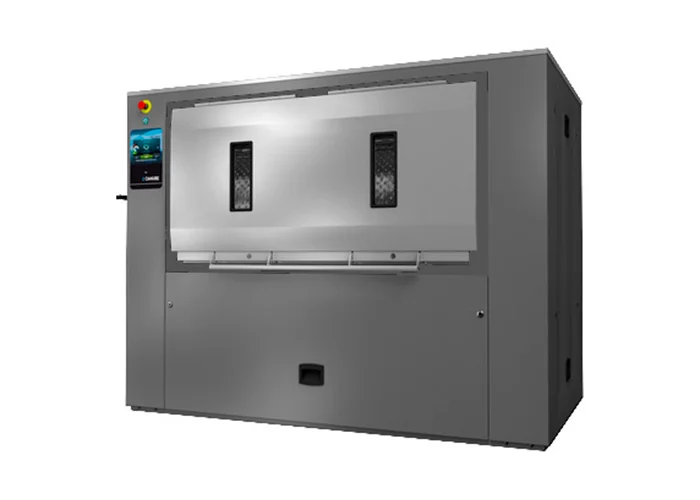 Obviously, these washing machines are designed to prevent dirty laundry from crossing paths with clean laundry. They have a system of double 180º opposing doors: one door for loading dirty laundry and the other for collecting clean laundry.
In addition, they have a G-factor of 375 which reduces drying times, thus optimizing the washing and drying process.  The doors are ergonomically designed to be easily opened by the staff who need to use them. As if that wasn't enough, these machines have three configurable water saving options. 
If you are interested in our industrial washing machines for hospitals, contact us and we will offer you all the technical details so that you can choose the one that best meets the needs of your hospital laundry. You can write to info@danube-international.com or fill in the DANUBE contact form.