Industrial barrier washer: presentation of our models
What do our sanitary barrier industrial washing machines offer you?
Danube is a specialist for many years in the design of barrier washing machines for hospitals and health centers. It is in this type of structure that we can find the greatest risk of contracting nosocomial infections and the laundry is one of the most common vectors of infection.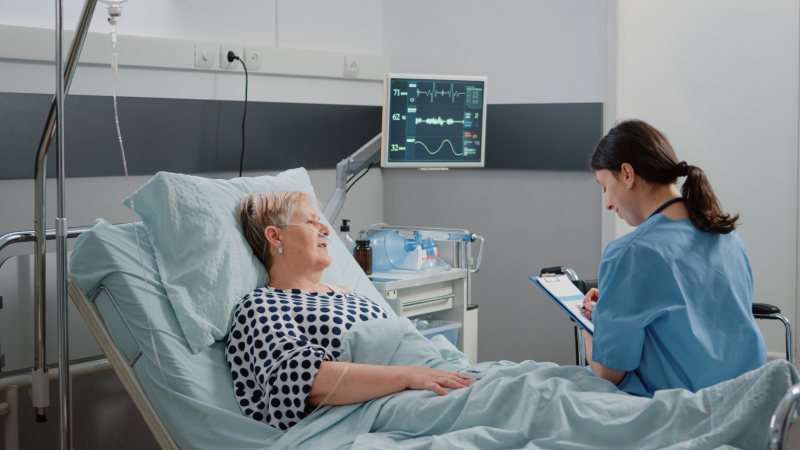 To counter this problem, good hygiene and cleanliness of surgical bedsheets, uniforms and other linens… is necessary, the washing process must follow strict sanitary standards.
This is where our industrial barrier washers and other sanitary equipment become necessary, providing specific washing processes for hospitals, the pharmaceutical, nuclear and cosmetic industries, for clean rooms…
In our catalog you will find three different models of machines: MED, DBW and PULLMAN.
What is a sanitary barrier washer?
A sanitary barrier washer is a machine with double opposite doors for loading and unloading laundry. Dirty clothes are loaded on one side of the machine and unloaded, sanitized, on the opposite side, once the washing cycle is complete.
This system makes it possible to isolate each side of the washing machine by means of a sanitary separation such as a wall.
Hence the term "sanitary barrier", as it keeps the two doors in separate areas and completely isolated from each other at all times. When the front door is open, the rear door is locked and vice versa. This way, laundry only passes through the washing machine all at once, ensuring that only clean laundry enters the dedicated area.
This sanitary barrier washing process works as the solution for professional washing, preventing cross-contamination and controlling infections in laundry processes.
Our models of industrial barrier washers
The new range of Danube barrier washers are fully compliant with RABC standards. You will find below, in general, the strengths of the three models in our catalog:
MED 16-22 ET2 washers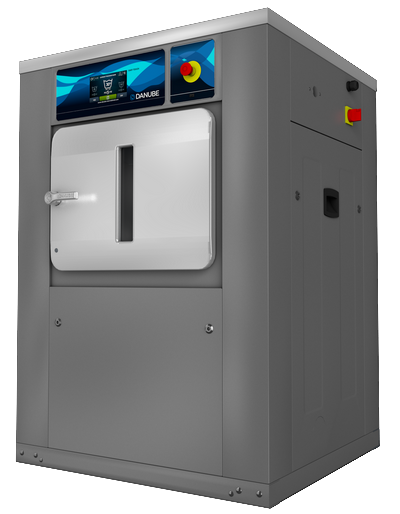 It is a washing machine designed for nursing homes and hospitals, with capacities between 16 and 22 kg. It is made with gray skinplate panels and is equipped with the new ET2 microprocessor: 7″ screen to be able to follow tutorials and instructions for use, traceability control and quick and easy data analysis, 8 signals for dosing pumps and eco programs.. are some of the most outstanding features of this microprocessor.
On the other hand, it is important to highlight that it has a high G factor of 350 and a spin speed of 1000 rpm, the possibility of electric or steam heating and the double door system, specially designed to avoid cross contamination.
DBW 27-35-50-70 ET2 washers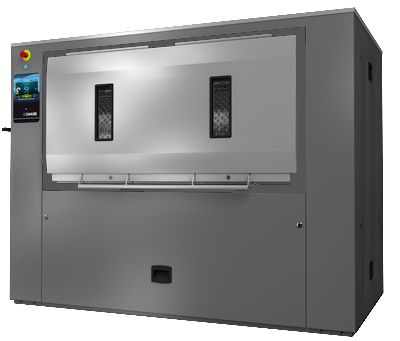 This hospital washer has a G-factor of 375 to achieve minimum residual moisture and is perfectly suited to hygiene and safety parameters. It is available in different load capacities: 27, 35, 50 and 70 kg. It also has the new ET2 microprocessor with a 7-inch touch screen
It has been designed to meet the strict hygiene needs of hospitals and care centers, optimizing and improving aspects such as functionality, ergonomics and aesthetics.
It also has the system of double doors opposed at 180 degrees with automatic positioning of the drum with brake. A washing machine designed to guarantee the safety, comfort and ergonomics of personnel.
PULLMAN AS-100 ET2 barrier washer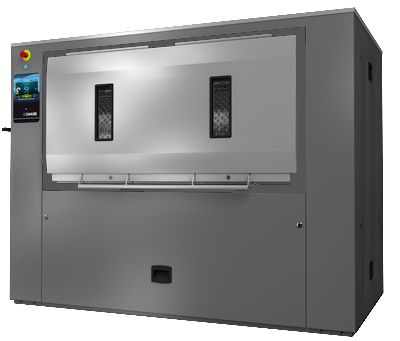 A high spin, aseptic, double door free standing washing machine to prevent contamination of clean laundry and designed for washing clothes in hospital settings. It is a powerful machine, with a capacity of 90 kg, with large doors for easy loading and unloading of laundry and a Pullman drum for load balancing.
It has a G-factor of 325 with which both residual humidity and drying time can be reduced. It also has the ET2 microprocessor, custom programs and a screen on both sides of the machine. An ergonomic and state-of-the-art washing machine that guarantees the safety of all caregivers.