Dryers are one of the fundamental elements of any industrial laundry
In our catalog of industrial dryers: efficiency, connectivity and quality
Danube offers a wide variety of state-of-the-art industrial dryers in catalog; we offer single drum, double drum and heat pump models.
All of them have been designed according to strict energy efficiency parameters and are characterized by the quality of all their components, their ergonomics and their versatility.
In addition, with the ET2 microprocessor, you will be able to carry out an exhaustive traceability control on each cycle, work with programs in Wet Cleaning, display illustrative videos on its large screen and use default ecological programs, among other advanced features.
Single drum industrial dryers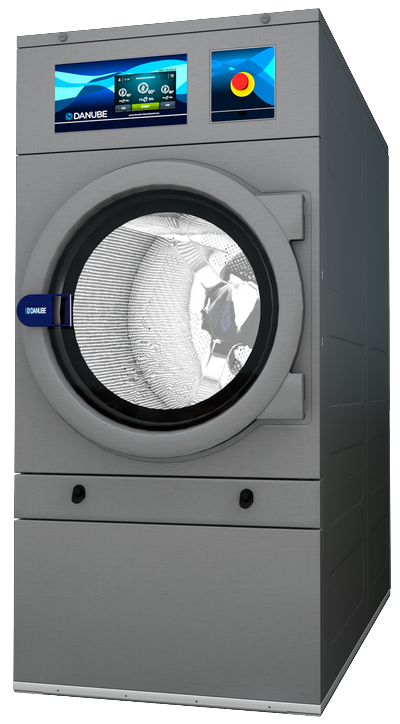 Single drum industrial dryers are ideal for laundries with medium to large volumes of garments to process. They are available in different capacities ranging from 11 to 80 kg. In addition, they all incorporate as standard a reversing drum and a COOL DOWN system at the end of the cycle to gradually cool the clothes and prevent creases.
The DD-GOLD model, for example, incorporates many outstanding features for this type of dryer. We will start with everything related to energy efficiency, mentioning the AIR RECYCLE system, designed to offer intelligent recirculation of hot air, with which significant energy savings are achieved.
It also offers the CARE DRY system for intelligent humidity control, which optimizes the cycle time, adapting the drum speed to the degree of humidity of the laundry detected.
We continue with OPTIMAL FLOW, an axial-radial airflow system that significantly improves the airflow inside the drum, in addition to having additional air intakes on the top and the front of the dryer.
All this, added to the advanced features of the ET2 microprocessor, makes this model a very efficient industrial dryer.
In terms of technical features, this dryer is available with three different heating systems – electric, gas or steam – offers a stainless steel drum and is equipped with a speed inverter as standard. 
After presenting the main characteristics, if you wish to receive more detailed information or a quote, do not hesitate to contact our sales department.
Double drum industrial dryers
Double drum dryers, placed vertically one above the other, are ideal for laundries with large volumes of work, but which do not have a large physical space.
They are essentially designed to be compact, which allows them to double the output of single drum dryers, without losing quality with each cycle. In addition, one of the novelties of this year is that the gas models have a turbo mode, which halves the drying times compared to the usual programs, while guaranteeing the same results and the same quality.
In terms of performance, it is identical to the equivalent single-drum models, which makes these dryers very efficient, ergonomic and versatile.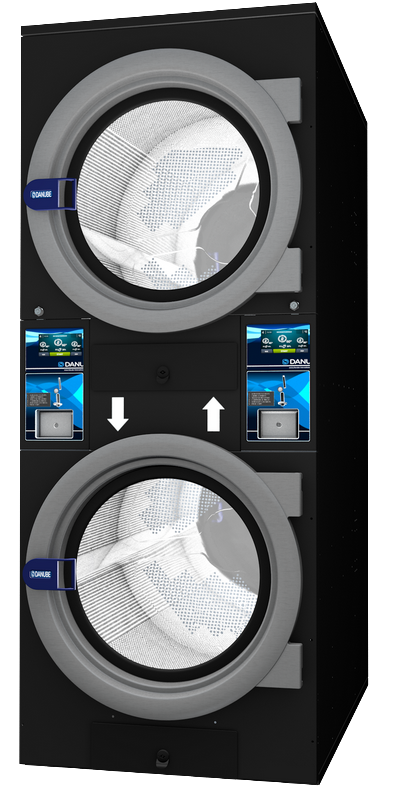 This line of dryers offers a new model, the STD-16 G PLUS, which stands out for having a more powerful gas heating system, with which more production is reached.
Heat pump industrial dryers
Heat pump dryers are the most adaptable on the market and are ideal for places without access or with difficult access to the outside. 
Their design is personalized and requires a prior study to adapt them to the area where they have to be installed, without sacrificing efficiency. To solve the problems related to the difficulties of access, they do not require an external exhaust and all the maintenance can be carried out from the rear panel.
These dryers, and those previously mentioned, are ready to operate through the IoT, also known as the Internet of Things, with all the advantages that this entails, both for users and for business managers or for technical service.
However, choosing one model or another is not an easy task. This is why we are keen to offer direct and personalized advice to each of our customers, guiding them, accompanying them and studying in detail the specific needs of their laundries, until finding the model and type of industrial dryer the most appropriate. Please do not hesitate to contact us to answer any questions you may have.
This is an important part of our job!