Finishing cabinets: how to use them and what are the characteristics of our models
Finishing is essential to present a garment and prolong its life. It is a determining factor for the maintenance of textiles and preventing the deterioration process. What is most important is whether the ironing is done on an industrial scale, with the aim of providing this service on a professional scale.
DANUBE offers finishing cabinets among the wide range of complementary equipment for industrial laundry. Everything you need to finish all types of garments to perfection.
What is a finishing cabinet and what is it used for?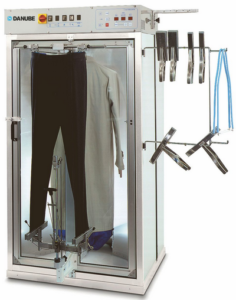 The finishing cabinet sanitizes and elegantly presents garments with a fully automatic cycle that combines high pressure steam, temperature and powerful airflow. This perfect combination of heat and steam relaxes wrinkles without touching them. The textile smoothes out and smoothes the garment.
Clothes are introduced automatically one by one to come out dry and ironed, enveloping the garments in warm air, leaving them intact and softer than a dryer. The cabins have different settings to adapt to the size of the garment to be ironed.
This cabin can accommodate shirts, trousers, dresses, blouses, t-shirts and other garments, with the processing of textiles as diverse as polyester, cotton, silk, viscose or denim.
The ironing operation is carried out without the dispersion of steam outside and guarantees a better working environment. Its assembly system is very simple. The cabinet can be converted and fitted with two dummies for finishing trousers or two dummies for finishing shirts, jackets and similar garments.
Why is finishing important?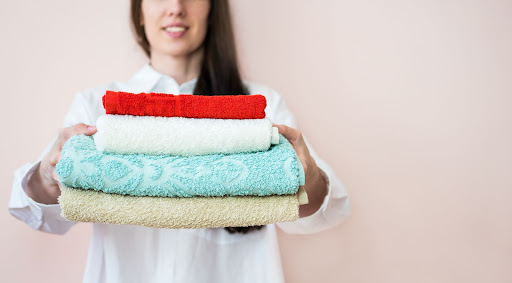 Finishing aims to prevent the aging process of garments. When part of the fiber comes off, unsightly fluff forms, aging the fabric and weakening it. This process is known as fabric pilling.
Good ironing forces the fibers to hold bonds in the weave of the fabric and, with the use of steam, bonds the separated fibers to the main fabric. The force of steam effectively and naturally disinfects surfaces. Some machine wash resistant pathogens can be removed by ironing.
Ironing is essential for clothes, collars, cuffs to be perfectly polished. This garment cleaning finish will leave your garments with a flawless smooth, flat weave.
It is also a tool that has been used to remove parasites from clothes. Although the clothes appear completely clean after washing, there may be traces of germs and bacteria which are not easily eliminated and which can be harmful to your health.
Low washing temperatures make it more difficult for dust mites and other parasites to disappear. Thus, if in addition to washing, you iron your clothes, you will make sure to eliminate all these unwanted elements. In addition, the sustainable maintenance of garments is a fundamental aspect to reduce the environmental impact of the textile sector.
What models of finishing cabinets does DANUBE offer?
DANUBE drying cabinets ensure excellent ironing, optimizing the production time of finishes and speeding up all the tasks of a professional laundry. They are state-of-the-art cabins, with advanced features, easy handling and, above all, low maintenance.
This modern equipment is designed for both personal use and to enhance laundry services in a hotel or any business requiring neat and well-presented uniforms.
In the official DANUBE catalog you will find two different models of finishing cabinets.
CF model finishing cabinet (WITHOUT BOILER)
It does not have an electric steam boiler and is designed to be connected to an external steam network

Requires a steam inlet and a condensate return.

Electric connection: 400 V III + N / 230 V III 50-60 Hz.

Easy use and installation.

Does not require much maintenance
CF-C model finishing cabinet (SELF-CONTAINED)
With a built-in 16 liters electric steam boiler.

Has an automatic water supply system and automatic pressure control (4,5 bar).

Electric connection: 400 V III + N / 230 V III 50-60 Hz.

Easy use and installation.

Does not require much maintenance.
Both models have a microprocessor control with 9 modifiable programs and automatic cycles when the door closes.
These machines have, as standard, a finishing device for trousers and a form finisher for jackets, coats, dresses, etc. Supplied with all the accessories needed to finish the pants, jacket and coat (dummy, trouser belt tensioner, curved jacket clip, straight trouser clips, vertical clips, multiple clasps, wooden and silicone tensioners).
They are easily convertible and can be equipped with two toppers and two form finishers for an automatic work cycle with 3 timers. In addition, they have a microprocessor-controlled system with 9 automatic programs.
How to acquire DANUBE finishing cabinets?
At DANUBE, we want to demonstrate professionalism and proximity to each client. The development of new technologies for industrial ironing is an essential asset. These finishing cabinets are a strong commitment that allow us to offer the most advanced and efficient machines on the market.
If you have any questions about our finishing cabinets, you can contact us by telephone on +33 (0)2 54 88 05 76 or write to us at export@danube-international.com. You can also fill out the form that you will find on this site.